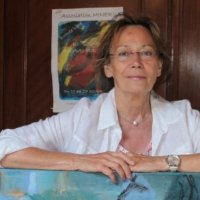 Margot Reding-Schroeder lebt und arbeitet in Ihrem Atelier in den Luxemburger Ardennen sowie in Ihrem Luxemburger Stadtatelier.
Studiengänge
Ab 2001 – Malerei, Freie Gestaltung, Bildkomposition, Akt, Zeichnung,Skulptur, Europäische Kunstakademie TRIER, Kunstakademie AUGSBURG
Ab 1993 S-Akademie Pro Arte Prissiano, Italien, Zeichenkurse Ecole des Arts et Métiers , Luxemburg. Kunstseminare in Florenz, Rom, Paris, Irland, Belgien, Deutschland
Ausstellungen
Auszug einzel und kollektiv, ab 1997 bis jetzt:
Belgien
Galerie d'Art -Cercle des Beaux-Arts ,Verviers, Koninklijke Kunstkring Hoppeland, Poperinge Benelux, IKOB Museum, Eupen, Bruxelles-Expo.
Dänemark
European Art Museum 2018
Deutschland
Roemische Villa, Borg, Deutsche Richterakademie, Trier, EVBK Abtei Prüm, Europäische Kunstakademie, Trier, Galerie Zeugma, Köln, Galerie Boehner Iduna Tower u. Galerie Boehner Mannheim, Galerie Beck Homburg
2020 Galerie Boehner Mannheim, Jubiläumsausstellung 25 J.
2021 VSU / Galerie Beck Ausstellung 50 J. Paul CELAN + Buch J.P. Celan, Saarbrücken
Frankreich
Museum St. Dié des Vosges, Galeries Poirel, Nancy, Abbaye des Prémontrés, Pont-à-Mousson, Site Alstom, Nancy, Centre Européen des Arts et Métiers, Givet, Salon International, Revin, Salon d'Art Contemporain Minerva, Maizières-les-Metz, Gr. Prix LOUVRE Video Ausstellung Paris 2017.
Italien
Premio Internazionale MASSENZIO ARTE, ROMA, Schloss Katzenzungen, Prissiano, ROMA Sale del Bramante 2017, Palermo Premio Internazionale Arte Palermo, Capitale della Culture 2018, Fundazione Palmieri, Lecce (Puglia). «Art Women GEO-graphies» 2020, Fundazione Palmieri, Lecce «Worldvieuw Antropologia dell'eco-visione» 2021
Luxembourg
Artium Art Gallery 2018, Galerie Schortgen, Gallery Cultureinside, Schloss Bourglinster, Galerie Espace 1900, Schloss Bourscheid , Schloss Larochette, Centre des ARTS Pluriels Ettelbrück, Artium Art Gallery, Luxembourg, Abtei Neumünster, ARTin Beaufort, BNPParibas, Galerie Soraya, Luxbg., Galerie Weber, Wiltz , Galerie Orion, Troisvierges, Bank Dexia-Bil- Experta, Luxembourg Kunstfestival Lellingen, Galerie Pisart Wiltz, Espace H2O Differdange, Galerie Steinsel 2016, Domaine Viticole Bentz Cl., Schloss Bourscheid «ODE» – Konschtgalerie Lellgen Télévie – Salon ARC musée d'histoire Diekirch, 60e anniv.
ARC: Château de Vianden, Schungfabrik Tétange (2020), H2O (2021), Ruth Gall. Casino 2000 (2021), Arc prév.: Maison de la Culture Diekirch (2022)
VALENTINY Foundation (2021). Expo Panta Rhei.
WORTSHOP online Collection (2021)
Holland – Rotterdam sowie Ungarn – Budapest
Siehe unter Kunstmessen
Schweiz
ARTSCREENTV Galerie du Marché Prestige, Montreux
Türkei – Istanbul
Siehe unter Kulturprojekte
Kulturprojekte
Deutschland Kultursommer Rheinland-Pfalz Altes Amt, Schoenecken-Eifel
Hommage à Robert Schumann, Kirche, Schoenecken-Eifel, Fahnenprojekt Bitburg
Luxembourg Projekt NEW FLUXUS »Ornement« Luxbg-Stadt
Projekt Eutopia CULTUREINSIDE, Luxbg-Stadt
Türkei Kulturaustausch Luxbg.Türkei, ISTANBUL Caddebostan Culture Center
Kulturaustausch Luxbg.Türkei Gallery Tophane I Amire ISTANBUL
Luxembourg Kulturaustausch Luxbg. Türkei Abtei Neumünster
Kunstmessen – Zeitgenössische Kunst
Frankreich: ART METZ 2002
Holland: ART & LIVING ROTTERDAM 2010
Deutschland: BERLINER LISTE 2o11
Frankreich: ST-ART STRASBOURG 2014
Italien: ART FAIR aff. MILANO 2016
Ungarn: ART MARKET BUDAPEST 2017
Österreich: ART FAIR SALZBURG 2017
Luxemburg: LUXARTFAIR 2017
Luxemburg: LUXARTFAIR 2018
Luxemburg: LUXARTFAIR 2019
Belgien: ART3f Brüssel 2021
Deutschland: ART Karlsruhe 2021 rep. 2022
Im öffentlichen Raum – Sakrale Kunst
Triptychon «Chemin de Lumière» , Kapelle Lellingen, Luxemburg, definitive Installation.
Kornelius-Kapelle, Welchenhausen, Deutschland, Alte Kirche, Schoenecken Eifel.
ABBATIALE Bouzonville, Frankreich, Altes PFARRHAUS Pintsch, Luxemburg, definitive Installation
Auszeichnungen – Preise
2001: Preisträgerin des Grand Prix d'Art Contemporain, 11. Salon des Arts Plastiques Minerva de la Ville de Maizières-les-Metz, Frankreich
2008: Preisträgerin des PREMIO INTERNAZIONALE MASSENZIO ARTE, ROMA, Italien
2010: Serigraphie «Femme», Edition zum 2o-jährigen Jubiläum Kunstfestival Lellingen-Luxembourg
2018: Integr. European Art Museum, Dänemark
Publikationen
2005: Herausgabe der Broschüre «das Wesen-tliche» unter der Schirmherrschaft des Kulturministeriums und des Fonds Culturel National Luxembourgeois (eingetragen unter Nationalbibliothek Luxembourg und Nationalbibliothek Leipzig, Deutschland)
2015: September Kunstmonographie mit Kunstkritiker Patrick-Gilles Persin, Paris, BBCREATIONS, PARIS – eingetragen unter Nationalbibliothek Luxembourg u. Frankreich.
2016/2017 Magazin ART International Contemporary September / Oktober EA edit. Italien, video exposition LOUVRE Pres. S. Serradifalco.
2016/2017 Buch The Best Modern and Contemporary Artists 2016 Kur. Fr. Sav/Salv. Russo EA edit., Italien.
2017 Magazin ART Intern. Contemp. Internat. award Caravaggio Juli–August EA edit. Italien.
2018 partic. Kunstmagazinkatalog Edition Artium Artists 2018, 40-jähriges Jubiläum ARTIUM ART GALLERY Luxemburg
2021 integr.in P. CELAN 50: Norbert Gutenberg, Mathias Beck, Saarbrücken
2021 Book ART UNIVERSAL Great Encyclopedia of International Art, Italien
Editionen
2018 Edit. Broschüre «La Danse» Galerie Beck Verlag eingetragen Deutsche u. Lux. Nationalbibliothek.
2019 Livre 60e anniversaire ARC
Mitglied ARC Kënschtlerkrees Luxemburg
Mitglied der Association des Artistes Lorrains Nancy, Frankreich