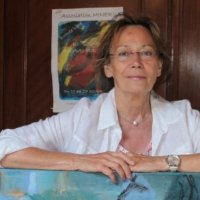 Studio in Luxembourg-City and Studio in Lellingen, Northern Luxembourg
Studies
Studies Contemporary Art – composition, drawing and painting, sculpture, inks-free & experim. painting at the European Academy of Fine Arts, Trier, Germany, Academy Fine Arts Augsburg, Academy Pro Arte, Italy School Arts & Métiers, Luxembourg, Art Seminars in Florence, Rome, Paris, Ireland, Belgium, Germany.
Exhibitions
Austria, Belgium, France, Germany, Hungary, Italy, Luxembourg, Turkey.
person. & collect.
Belgium
CASTLE of Strainchamps – Art Gallery Verviers – IKOB International Art Center, East Belgium, ROYAL ART Circle, Poperinge, Benelux, Bruxelles-Expo.
Denmark
European Art Museum 2018
France
MUSEUM St. Dié des Vosges – Gallery POIREL, Nancy – ABBEY des Prémontrés, Pont-à-Mousson – ABBEY of Bouzonville, EUROPEAN Center of Arts and Profession, Givet- Salon INTERNATIONAL, Revin – Salon of Contemporary Arts «MINERVA», Maizières-les-Metz, Gr. Prix LOUVRE Video exhibition 2017.
Germany
Gallery ZEUGMA, Köln – Gallery BOEHNER IDUMA TOWER Mannheim – ROMAN VILLA Villa, Borg – German Academy of Judges, Trier – European Artists Abbey of Prüm – Cultural Summer, Schoenecken – Art Market European Academy of Fine Arts, Trier – Premium Gallery Boehner Mannheim, Galerie Beck Homburg, Galerie Boehner Mannheim Jubiläumsausstellung 25 J.
Italy
Palermo Premio Internazionale Arte Palermo, Capitale della Culture 2018 – Mostra Premio Internazionale MASSENZIO ARTE, Roma – Pro Arte CASTLE of Katzenzungen-Prissiano – SALE BRAMANTE, Roma, Palmieri Foundation Lecce (Puglia).
Luxembourg
Artium Art Gallery 2018 – CASTLE of Bourglinster – CASTLE of Bourscheid – CASTLE of Larochette – Center of Plural Arts Ettelbruck – ARTIUM Art Gallery – Gallery ESPACE 1900 – Gallery SORAYA – Gallery WEBER Wiltz – Gallery CULTUREINSIDE – Gallery ORION – Bank DEXIA BIL Luxembourg – ABBEY of Neumünster – Project NEW FLUXUS Gallery PISART Wiltz – ART Steinhäuser – ART in Beaufort – Salon d'Art contemporain, Grevenmacher – GOOD YEAR, Colmarberg – ART Festival, Lellingen-ESPACE H2O Differdange – Domaine viticole Cl. BENTZ, Salon ARC museum of history Diekirch, 60th anniversary ARC Vianden Castle, Schungfabrik Tétange.
Netherlands – Rotterdam and Hungary – Budapest
See Art Fairs
Switzerland
ARTSCREENTV Galerie du Marché Prestige, Montreux
Turkey – Istanbul
See Cultural Project
Art Fairs – Contemporary
ART METZ, FRANCE 2002
ART & LIVING, Rotterdam, NETHERLANDS 2010
ART FAIR, BERLINER LISTE, GERMANY 2011
ART FAIR Strasbourg, FRANCE 2014
ART MARKET, BUDAPEST, Hungary 2017
ART FAIR MILANO aff. Art, ITALY 2016
ART SALZBURG, AUSTRIA 2017
LUXARTFAIR, LUXEMBOURG 2017
LUXARTFAIR, LUXEMBOURG 2018
LUXARTFAIR, LUXEMBOURG 2019
Cultural Projects and Exchange
with TURKEY
ISTANBUL, CADDEBOSTAN Culture Center,
Gallery TOPHANE I AMIRE ISTANBUL
Abbey Neumünster Th. "We are more similar"
with GERMANY
Cultural Summer Rheinland-Pfalz
Hommage à Robert Schumann, old Church Schoenecken
Cultural Summer Rheinland Pfalz – Fahnenprojekt
In LUXEMBOURG
Project NEW FLUXUS
Project EUTOPIA – Cultureinside
Public Buildings, definit. installations of paintings:
Triptyc "Way of light", chapel of Lellingen,
PATER NOSTER Old Priest House, Pintsch
Prizes
2001 PRIZE Contemporary Art – 11th Salon of Arts of Maizières-les-Metz, FRANCE
2008 PRIZE of the Premio Internazionale Massenzio Arte, ROMA, ITALY
2010 Serigraphy "Femme" edition for the 20th Anniversary of ART Festival in Lellingen
2011 Particip. collect. Artbook Cultureinside EUTOPIA project
2018 Integr. European Art Museum, Denmark
Publications in Artmagazines and Artbooks
2005 edition Brochure "Das Wesen-tliche" (the Essential)
Patronage of the Ministry of Culture and the Cultural National Fund of Luxembourg
Inscript. National Library Luxembourg and German National Library Leipzig
2015 Edition Artbook with arthistorian critics Patrick-Gilles PERSIN, Paris,
edit. BB. Création Paris, inscript. National Library Luxembourg in
2016/2017 Magazine ART INTERNATIONAL Contemporary, Italy
2016/2017 BOOK The Best Modern and Contemporary Artists, Italy
2016 Video ART Shopping LOUVRE EXPO, Paris 2016 (with Italy)
2017 Magazine ART International Contemporary, Caravaggio Award Italy
Editions
2018 Edit. Brochure "La Danse" Gallery Beck Verlag, registered National Library in Luxembourg and Germany
2019 Book 60th Anniversary of ARC
Member of Association des Artistes Lorrains Nancy